Here's my best attempt to trace the birth and subsequent growth of interest and activities in Okinawan music and dance in the UK, leading to the birth, development and impressive success of the London Okinawa Sanshinkai.
Okinawan music and dance in the UK: a personal memoir
By David Hughes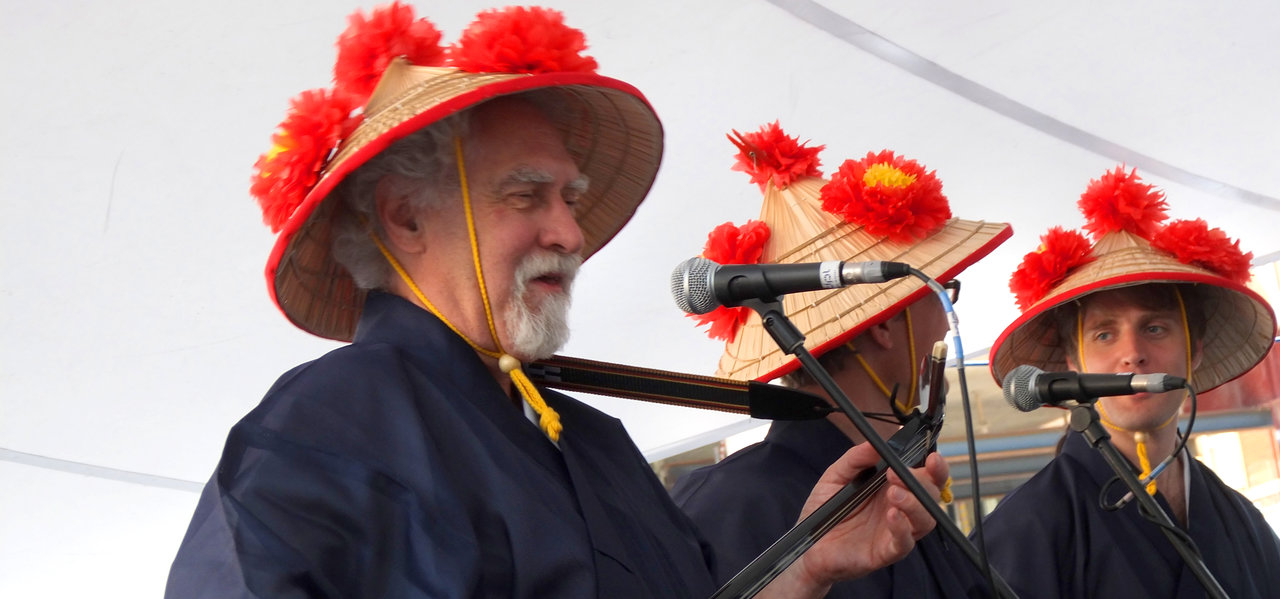 I believe it all started in late 1981, shortly after I came to the UK to live, with a two-week tour of the UK by Miyagi Minoru's Okinawan dance and music troupe. The tour was organised by Anne Hunt, who was striving to promote World Music (a couple of years before the term became part of daily vocabulary) through various concert tours. The troupe asked me to serve as interpreter, lecturer and MC for the tour, because a year earlier, in October 1980, I had served the same role for them at Hong Kong's Festival of Asian Arts. (I have no recollection of how Anne herself had come into contact with Okinawan music, but there were by then a few LPs available.)
The troupe performed both folk and classical/court music and dance, including a segment of a kumiodori dance-play. There were challenges for a novice audience. For example, the powerful significance of the long, super-slow head movement called sankaku mijichi, "triangular gaze", in the classical dance "Shudun" may not be recognised without preparation. As MC, I did my best to alert the audience to this in advance, while trying not to be too blabby (I am an academic, after all!) or condescending (after all, many people would have felt the power and beauty of this movement without my help).
The Miyagi tour, which was very well received, was apparently the first significant chance for UK residents to experience Okinawan music and dance. But it did not trigger performance activities. So far as I know, I'm the one who first taught a bit of Okinawan musical performance (I can't do the dancing). I always focussed on the folk repertoire. Several years later, in 1995, the masterful Robin Thompson returned to the UK after thirteen years in Okinawa and became the major force in teaching and performing the court repertoire. (Robin and I often perform these two repertoires together, but we have our preferences!) Next, Matt Gillan, while a Master's student at SOAS in 1998-99, fell in love with Okinawan music via my lectures and performing – well, no doubt mainly through the many lovely recordings he heard. Matt decided to change his proposed PhD topic from shakuhachi music to Okinawa, and specifically (at my suggestion) to Yaeyama.
In terms of performance, it's fair to say that Robin, Matt and myself got things rolling, and that the current activities of the London Okinawa Sanshinkai would not have developed without Matt's amazing determination in discovering the Okinawa Kenjinkai – the Prefectural Association – in London and getting them involved. But I'll let Robin and Matt provide their own memories. Let me now explain why I myself got interested in Okinawan music, over forty years ago. And then I'll describe most of the early Okinawan music events in the UK, prior to the official naming of the London Okinawa Sanshinkai.
Before the UK (this is David's personal Okinawa history):
1972 – teaching linguistics and Japanese at University of Michigan, found recordings of several hundred Japanese folk songs, including some from Okinawa (AND found Gina Barnes!). Dropped linguistics, dropped idea of PhD on Bulgarian music, started PhD on Japanese folk song. Started learning shamisen (nagauta/kabuki style).
From the LPs, I made notations of Okinawan songs such as "Ten'yō Bushi", "Asadoya Yunta" and "Tanchamē", which I had to play on a nagauta shamisen, not having a sanshin. I assumed that "Tanchamē" was in honchōshi tuning, and only found out four years later that it's in sansagi. Oh well.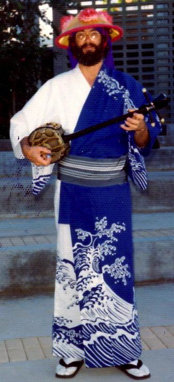 1976 – attended twelve-week Okinawa summer school at the University of Hawaii. The teachers: court musician (now Living National Treasure) Shimabukuro Masao, professional folk singer Tamaki Antei (with me in b&w photo below), Eisā dancer Matsumoto Jōshō from Hamahiga, and court dancer Kin Ryōshō. I was very much involved with the first three, and also with local Okinawan musicians. This was the summer that Eisā was revived in Hawaii (whose populace was over 4% Okinawan descent), and I enjoyed being an accompanist (jikata; see photo). I also sometimes joined performances at the Hanagasa "shimauta club" (now sadly gone).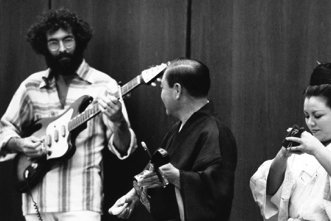 Autumn 1976-Summer 1977 back at U of Michigan: taught Okinawan songs to UM students and other local people, and included these in various concerts of Kabuki music and "Yamato"/mainland folk song.
1977-1980 in Japan, often performed Okinawan songs, usually with Gina on samba, whistling and chorus. Examples: Radio Asahi "Ohayō Personality"; Nihon TV "Honmono wa dare da"; Sankei Hall (Osaka) twice, at recital of my Yamato folk song teacher's students, and later as guest at concert by famed folk singer Harada Naoyuki; mini-concert for residents of tiny Nishi-Mochida village, Shimane.
1980 – visited Amami, learned "Asabana Bushi" from renowned singer Takeshita Kazuhira, watched hachigatsu odori Bon dances.
1980 – performed "Tanchamē" on Japan Columbia LP of Japanese and other songs I recorded with Gina.
October 1980 – with Miyagi Minoru troupe in Hong Kong.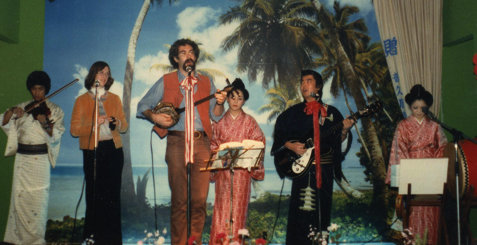 1980-81, six months in Okinawa: met again with the four masters from the Hawaii summer school, took more lessons; Gina took eight dance lessons ("Tanchamē" mostly). Went to various folk clubs (see photo, left, with Gina), and did a personal concert (various music genres) at Okinawa Jan Jan. Visited Taketomi, home of "Asadoya Yunta".
New Year's 1981 – with Gina: performed "Tanchamē" on RBC TV's annual folk song celebration, "Shinshun Min'yō Kōhaku Utagassen".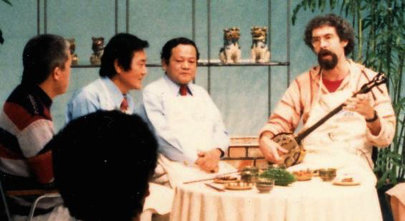 Early 1981 – D live on Okinawa TV: cook nasu no miso-ae (fried aubergine) and then sing "Nashibii Bushi" ("Aubergine Song") (see photo, right).
May 1981 – Kitakami, Iwate Pref.: concert, "A Musical Evening with David Hughes" ("Debito Hyūzu Ongaku no Yūbe"), interacting with the audience and with various local musicians. Sang 12 diverse songs and accompanied others, playing shamisen, sanshin, banjo and guitar. Sang three Okinawan songs and one from Amami.
After settling in the UK (August 1981):
1981 Nov-Dec – toured with Miyagi Minoru troupe: Belfast, Newcastle, Malvern, Birmingham, London, Chichester, Hull; recorded music for BBC radio programme.
1982 Jan-June – at U Michigan again (while working on my PhD): taught Okinawan performance; led group concert of Japanese & Okinawan music, including "Ten'yō Bushi" and two others. Photo shows Gina on drums, me on mandolin in fun arrangement of "Asadoya Yunta".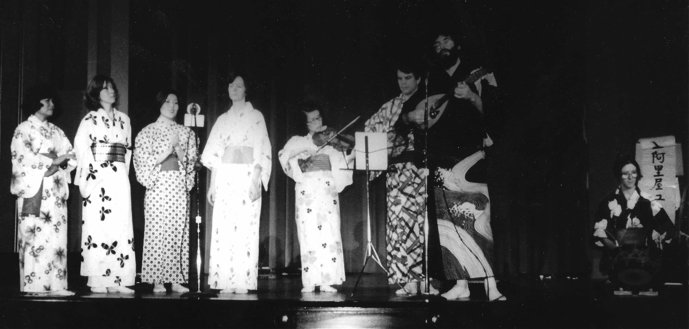 1983: 27 Nov – Clare College Folk Club, Cambridge, sang "Tanchamē" and "Nashibii Bushi" ("Aubergine Song", wonderful song!) to open for famed folkie Richard Thompson. He said he had really enjoyed my songs and asked me about the sanshin. I let him pluck at it. Four years later, out came his album Live, Love, Larf & Loaf. And it included "Haisai Ojisan", with a sanshin player joining the folk-rock band!
After starting my SOAS career (January 1987) – before Sanshinkai:
Late 1995 – Robin Thompson re-settled in London. Wonderful! He soon began teaching Okinawa classical uta-sanshin to some London-based Okinawans.
May 1994 – London: At Bloomsbury Theatre concert by the (original) Nēnēs, I sat next to two Okinawan chefs from Yambaru restaurant, who had been in the UK for 13 years (same as me!). They were excited about an Okinawan concert – but disappointed by the Western-style accompaniments and arrangements ("That wasn't Okinawan music!"). Can't please everyone!
Feb 1997 – Bhaktapur, Nepal (I was teaching at Kathmandu U for a week): weird musical gathering with amazing Bluegrass/folk musician Peter Rowan, before his concert in Kathmandu on his way to Okinawa! So I sang him (with guitar, not sanshin) an Okinawan song to prepare him.
October 1997 – Robin and I started an Okinawan ensemble at SOAS. One reason: Irei Chihiro, Okinawan classical dancer, was in London for a year studying English.
March 1998, SOAS – Okinawan concert, dancers Irei Chihiro and her visiting mother Aki; me, Robin, and our SOAS students: Jane Alaszewski (koto), Charles Rowe (vocals, taiko), Charlie Barlow (taiko), Hana Grisdale (kucho, samba), Flurina Simeon (samba).
1999, SOAS – The Okinawa ensemble (Phase 1) faded as the original student members left SOAS.
Okinawa ensemble, Phase 2: birth of the Sanshinkai (2000 and after):
2000 – Matt Gillan, beginning SOAS PhD research on music in Yaeyama, stimulated the revival of an Okinawan group. He attracted several Okinawans studying at SOAS, as well as Kawabata Miki, a Yamatunchu doing SOAS PhD Anthropology research about Koza. These and others (met via the Kenjinkai etc) began to meet regularly, mainly under Matt's tutelage; Hokama Komako ("Mako") from Yonaguni began teaching her local Eisā style.
When Matt and Mako moved to Okinawa for research, Saki and Colin McDowell became the main organisers, with me in a supporting role.
David in Okinawa & at Okinawan events in Kyoto and Osaka:
July-Sept & Nov-Dec 2000 – David in Okinawa: various research; watched Sonda Eisā (see photo; Gina on left) and interviewed their leader; appeared on Uehara Naohiko's RBC radio show; hung around with Koja Misako, Ganeko Yoriko (photo below = me singing at her club Hime), Tamaki Kazumi, the Rinken Band, Kina Shoukichi & his parents, the second-generation Nēnēs, etc. In between, enjoyed Okinawan music in Kansai: went to shimauta clubs in Taishō-ku, Osaka, saw concert by Ōshiro Misako in Kyoto, etc.

August 2000, Ginowan: Gina arrived to vist me just before our 25th anniversary. Behind the Okinawan Culture Centre was a breakwall most of whose concrete panels had been adorned with tastefully done paintings, messages of love, poems etc by random citizens. So one day I took three cans of paint and inscribed the lyrics to the classical song "Nufa Bushi": "The steep rocky pass at Nufa: when I climb it with you, that hard journey doesn't seem so long at all." When Gina arrived, I took her for a casual stroll along the breakwater, and let her discover my message. (Strictly speaking, 25 years of marriage plus three years of pre-marital love, but never mind.)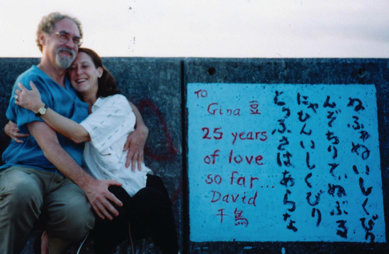 Back to SOAS – Sanshinkai's development continues:
May 2001 – Rinken Band performed in Hyde Park as part of Japan 2001. We met up, then their first "official" business was to go to the Beatles' Abbey Road crosswalk for a photo!
26 Nov 2001, SOAS – Okinawa concert: Naomi Maki (piano/voice), Joji Hirota (taiko/percussion), Chieko Mori (koto), and the SOAS Okinawan Music Ensemble (David, Robin, Hokama Komako, Kawabata Miki, Koki Sawako, Nakazato Nina, Miyagi Osamu).
March 2002 – sang on Okinawa's RBC radio (celebrating 50 years of RBC), over the telephone from my SOAS office!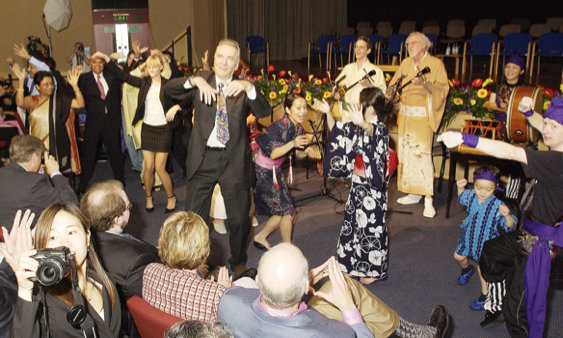 July 2004 – SOAS graduation (see photo): short concert by the Mayagwas: David, Matt, Mako, Colin & Saki (& son Joe!), Gina (off-camera), Taguchi Kazumi, Mizuno Naomi. This was Matt's graduation; he and Mako soon headed to Japan.
Nov 2004 - By now we were SOAS Okinawa Sanshin Group, but also sometimes just called Sanshinkai. Meeting weekly at SOAS, on Saturdays, as we still do.
2-10 July 2005 – SOAS: Eisā summer school with two teachers from Sonda.
Sept 2005 – 38 visitors from Sonda (with our support) perform Eisā in long parade at Thames Festival.
From this point on, as a result of the 2005 summer school and Thames Festival performance, our London group had more or less reached its current form and has been vibrantly active ever since. With Matt in Japan pursuing a successful university teaching career, with Robin concentrating on classical uta-sanshin activities (and, sadly for us Londoners, about to return to Okinawa in 2015), and with me finding that the group now had a healthy number of wonderfully committed and talented members, the three original gaijin "founders" of the UK's Okinawa music scene have been able to play lesser, more occasional roles in the "folk" side and take pride in the full maturity of the London Okinawa Sanshinkai.
Evolution of names of the Okinawa ensemble:
The first "official" name of an Okinawa performance group in the UK, adopted for our SOAS concert in November 2001 (see above), was SOAS Okinawan Music Ensemble – appropriate since all performers had SOAS links. Once Matt had returned from PhD fieldwork in Yaeyama, the name Mayagwas was used briefly around 2004, but this soon yielded to SOAS Okinawa Sanshin Group or sometimes – to sound more "Japanese"/Okinawan – just Sanshinkai. By Nov 2009 we had become the London Okinawa Sanshin Group, recognising that – though we met to practice at SOAS and could not have existed without SOAS support – we were now a London-wide community group. But within a couple of months, by January 2010 we had adopted our current name, giving a slightly stronger Japanese flavour: London Okinawa Sanshinkai.